Use you scanner as a digital camera !
Scannography, or "scanner photography", is the process of producing artistic digital images by means of an ordinary flat-bed image scanner. Whereas a flatbed scanner is generally intended to be used for the reproduction of two-dimensional images, scannography typically involves imaging objects such as people, plants or anything that can be layed on it. Images produced by these means can have resolutions of up to one hundred megapixels.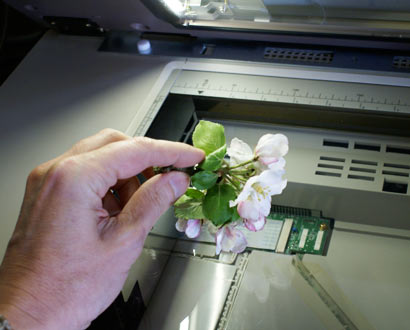 Here under you'll find some technics shared by different artists
But there are a lot of other ways to proceed and we hope other artists will add their contribution !
Marty Klein's technic
Creating scandalas…
Read >
Chris Staebler's method
How to proceed to scan and compose…
Read >
Jaime Ruas's technic
Creating liquid painting Artworks…
Read >
Jeff Mihalyo's technic
The 3-pass method…
Read >
Patri Feher's method
A detailed review of how to do your first scannography…
Read >
Cassandra Leopold's portraits
Some Tips and Tricks…
Read >
Marsha Tudor's workflow
Some Tips on how she proceeds…
Read >
Rebecca Wild's method
Rebecca's tips and tricks
Read >