Hardware by Diane Kaye
There are two distinct markets in the scanner business. What is now the serious office market vs. the small office/home market used to be the office market and the serious geek home market. Scanner technology really isn't changing, but what we have now is a home market that is usually all in one machines – printer, scanner, fax. Recently there have been dedicated scanners for the home office/home market but there are many complaints that the moving plastic parts and housings broke easily and the quality was low, even in Epsons, as prices dropped.
My old scanner, the Epson Perfection 2450, came from an earlier time – I bought it new, and it was well built. I use it with the Silverfast software that came with it and, for scannography it is good for two reasons: the images have a slightly dreamy quality, with color a bit skewed in a way that I find interesting, plus it is an easy unit to stand on its side to capture subjects which can't safely lie flat. The bed measures 9"x12". I would recommend picking up this machine (or similar model) off Ebay or Amazon.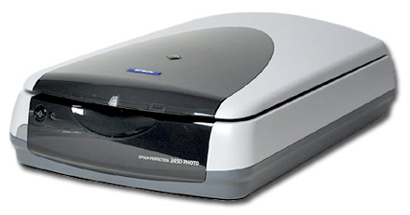 Epson Perfection 2450

Three years ago I acquired the Epson Expression 10000 used on Ebay. It was built to last - for the large office market, and has been a current model for several years. Rather expensive and heavy, it has a larger depth of field, and a special thick electronic cover for scanning slides. This cover can produce pictures with an "x-ray" look. With my limited desk space, I have never tried using it on its side. It came with Silverfast, however I prefer Epson software, which is more stable and straightforward. (Larger depth of field is not always desirable.)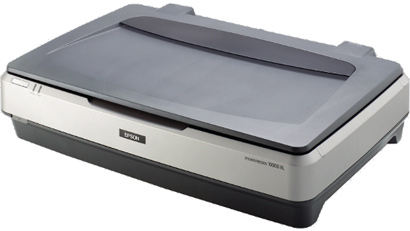 Epson Expression 10000

At times I manipulate the curves of the various colors in the scanning process, especially when the image will be taken into Photoshop and converted to BW using the channel mixer. Once in awhile I increase the saturation in the scan as well, as it can be backed off later. This kind of experimentation is fun and can help you achieve a personal style. Gentle manipulations at the scanner level can be very useful, particularly if the shadow detail part of the curve needs boosting. That's the time to do it, not later.
LED light bars may be on the horizon; they should last longer, use less power, and probably will give truer color, but I certainly wouldn't wait when wonderful scannography is so simple to create with today's easily available hardware.
Diane Kaye
Software
Imaging programm yet to come…